Straw Bale Gardens
Dory Otto
A New Way To Garden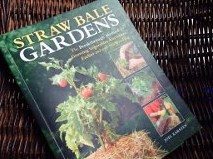 This is the time of year when many people get the itch to garden. Have you heard of straw bale gardening? When I first did, it didn't make much sense to me and then the more I learned the more I thought it sounded fantastic. You see, I love fresh produce and I hate weeding. Straw bale gardening makes for prolific plants and virtually no weeds. Brilliant!
Like with most things, the prep work is an investment. To educate yourself on this type of gardening you can read Straw Bale Gardens (http://www.strawbalegardens.com) by Joel Karsten and/or take a class through your local community education program. You will want to do that before starting, but here you can learn the general premise.
Rather than plant your seeds or plants into the ground you plant them into straw bales. The bales are conditioned beforehand with fertilizer and water. The bales begin to compost, which creates a highly nutrient rich environment for plants. It also creates heat, which allows you to plant your garden a bit earlier than you could with traditional ground planting.
I highly recommend the book, as it offers up detailed instructions for planning your garden. Including plans based on different numbers of bales, depending on your space and desired harvest. Karsten makes the process easy to understand. He is also local and often teaches classes around the metro.
The book includes shopping lists for supplies you will need to construct a trellis and watering system, both of which make for less work in the long run. He suggests using mister hoses on timers, so your garden will get watered and you aren't lugging any hoses. Plants thrive in these straw bales, so the trellis system helps to keep the plants growing up. This and the plants higher height makes harvesting a breeze.
Because the bales are composting and creating heat as they do, the growing season is extended. By the time the growing season comes to a close the bales will be breaking down. What remains will make for rich soil in pots for the following spring.
This type of gardening is gaining in popularity. Last year, several local places sold out of straw bales early in the season. If you are interested in trying this, you will want to look for organic straw bales early in the season. You can keep them stacked up until your space is ready for them. The website (http://www.strawbalegardens.com) has a list of places to purchase bales.
Like many new endeavors, the first year cost is the highest. You will likely want to invest in posts, fencing, drip/mist hose, and a timer. This investment will last for years to come. When it is all said and done it may be less expensive and time consuming to shop at farmer's markets. However, this type of gardening eliminates some of the most common complaints about gardening.
Having a garden is also a wonderful way to teach children about where food comes from. Kids are often more interested in eating things when they were involved in growing them, so getting them to eat more veggies may be another benefit. Jack-o-lanterns can also be grown in straw bales and are another way to get the kiddos involved in the process.
Happy Gardening!
g