Spice Storage and Organization
Dory Otto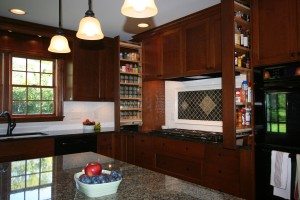 What is the most often asked question at home shows when we are there exhibiting our roll out shelves?  What solutions do you have for spice storage and organization?
Many of us have an abundance of spices.  We end up purchasing a spice because we need a 1/4 teaspoon for a recipe and the bottle sits in our cupboard.  Or since we have so many spices, we can't find what we need.  So we go purchase another bottle only to come home and find that we have 3 bottles of ground ginger hiding in our cabinet! How do we solve the spice storage issue?
We can build custom solutions like the one above when we are designing your new kitchen.  We like to talk with our customers and find out how they live in their kitchen.  Do they need lots of space for spices or are they more of a salt, pepper, and garlic type of cook?
When you aren't in the market for a new kitchen, we can help with our custom designed roll out shelves.  We come out and measure your space, build a storage solution for your space and what you are trying to store.  Then we come back and install the roll out.
Here are a couple of examples: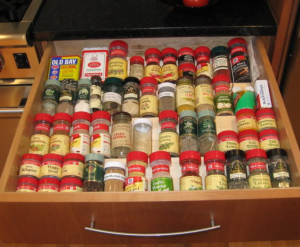 Spice storage is always a problem. Let us help design a custom solution for your cabinetry.   The possibilities are endless!  Stop spending money on off the shelf solutions.  No more plastic bins or shelves that don't hold enough or are sturdy enough for what you are storing.  Call us and we will design the perfect solution for your spice issues! The best part is all of our roll outs are $170 each installed, no matter what size.