Kitchen Design Trends
Dory Otto
Kitchen Design Trends
Are you like me and are hoping this is the year to FINALLY remodel your kitchen?  9 years ago we moved into our home (after fully renovating our previous home) and decided the first thing we would change was the kitchen.  Instead we replaced all the mechanicals, dealt with a flooding issue, planted over 1,000 plants and revamped all the landscaping, and decided to have me work full time in the cabinetry business as well.  So, fast forward 9 years and remodeling the kitchen is still on our wish list!  But I am crossing my fingers that this is the year we schedule some time to build our cabinets:)
The first step is to think about what you'll need and how you can improve your kitchen layout.  We always say it's easy to design a kitchen that looks good, but it is much harder to design a kitchen that functions well.  Of course, it is very important to think about how you want it to look and feel. As we look at remodeling our own space, I have been thinking about some trends we have seen and looking to what designers are predicting for 2015.
We have definitely seen an affinity for furniture style cabinetry and designers agree.  Furniture style cabinetry adds personality to cabinetry and makes the kitchen feel warm and inviting.  The easiest place to use this trend is in the island.  It makes is a focal point and can really add character to the whole kitchen.
Custom cabinetry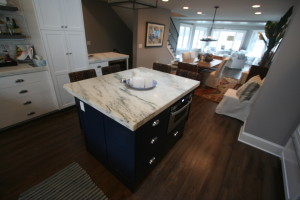 Choosing an accent color for the island can bring personality to your space.
We have been seeing a trend toward using open shelving as a practical solution for the kitchen space for a few years.  We prefer a combination of open shelving with cabinets as there are many things that you don't want to display.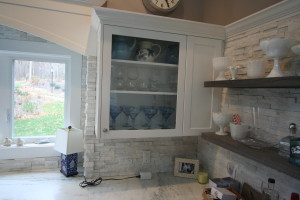 Another trend described by designers is vertical joint wood paneling.   It is a great way to add detail to a space without feeling too busy.  We love this option and one of our favorite spaces used alder v-groove in the office.
Classic Shaker-inspired kitchens never seem to go out of style.  We see many of our customers choose this look to appreciate the clean lines and the textural beauty of the wood.  See more examples here.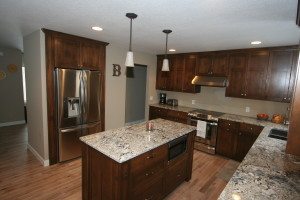 Probably the biggest trend we've seen is the focus on storage and accessibility.  We love to meet with people and find out how they will use their kitchen.  Do you love to bake and need storage for cookie sheets or do you have a collection of Christmas dishes?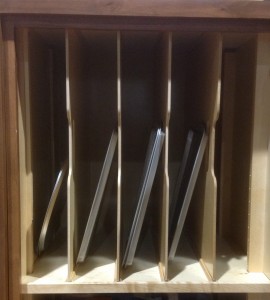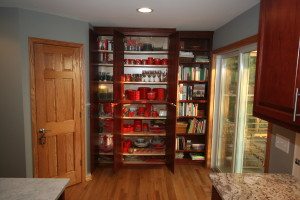 We love making your kitchen work as well as it looks! Here are some ideas on maximizing your storage and organization.
There are many choices to be made when designing and building your dream kitchen.  Trends are interesting and can help define what you like, but they can also define what you don't like.  In the end, it is your kitchen!  Happy remodeling!