Transforming Lives By Transforming Homes
Help Your Shelves is part of Joseph Otto Enterprises.  We are a family owned, second generation custom cabinetry and woodworking shop.  We found that our customers who worked with us on their custom cabinetry projects loved the roll out shelves we had designed for them.  We decided to offer these same custom roll out shelf solutions to customers who may not need a kitchen remodel but still wanted to add functionality and organization.   We enjoy working with our customers to design a truly custom solution for their storage and organization problems.    We help transform the way our customers live in their homes by making their storage space work better and be more organized as well as offer a product that lasts a lifetime.
---
The Owners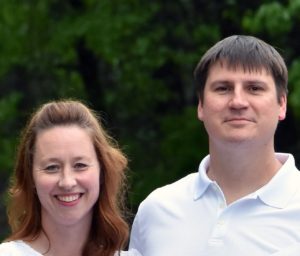 Joe learned the craft of woodworking as a child when he helped out in his father's cabinetry shop.  He is happiest when he is working in the shop "making sawdust." Dory never thought she would be a cabinet builder when she grew up!  She enjoys working with customers to bring their ideas to life and help make their homes a place they love.
---
Our Happy Clients
I am giddy with excitement.  The gliding shelves are installed, they are fantastic.  I have captured so much lost space.
Thank you again for all of your good work, the way you treated us in the process with such honesty and dignity and for the gift of appreciation. It all causes you to stand out from among the crowd of cabinetry people because not all of them take the time to embrace and practice such old world values and standards of ethical business practices. But you do and that makes all the difference. We so appreciate your approach to your work and to us, your clients.

Thank you again and looking forward to our next project.
If you want an "old school" carpenter (by this I mean top quality job) remodel your kitchen or just a mini-remodel with inserting slide out drawers versus crawling into the dark holes, Joseph Otto Enterprises is for you. It's all about quality craftsmanship and service with a smile. I just had 6 sliders put in with a secret utensil drawer…just love them!!!! Guaranteed for life!!!
I am working with Joe right now to redesign and reconstruct my kitchen. He is so knowledgeable and easy to work with~ we have great rapport! I love that he will suggest ideas and make me really think about what I want and how it will play out through design and construction. He is open to my ideas and works hard to incorporate them into the design.